We've spent time considering what type of coffee would best fit our brand. It has to be organic (and certified to prove it), it has to be Fairtrade and it has to be of the highest standard, which is why Mindful Coffee is specialty grade but Mindful Coffee also has to be clean. It must be free from pesticides and toxins.
The journey from bean to cup can span thousands of miles but the road to Mindful Coffee has been no less interesting.
Consciously Good Coffee

·

Consciously Good Coffee

·

Consciously Good Coffee

·

Consciously Good Coffee

·

Consciously Good Coffee

·

Consciously Good Coffee

·

Consciously Good Coffee

·

Consciously Good Coffee

·
Lab Tested Coffee Beans
Our customers buy from us with confidence. Our UKAS approved lab test results show mycotoxins were undeteced
Full COA available on request

Our coffee is of the highest standard possible. We only use specialty grade coffee beans, which is of such fine quality that only 1% of coffee beans produced across the are specialty-graded. There's plenty of information on specialty coffee at the Specialty Coffee Association
Where does your current coffee stand?
Are you drinking the quality of coffee that you want to? Here's a quick guide to help you decide:
clean coffee
If you've ever had that shaky feeling or headache after drinking coffee, it may not be down to the caffeine in the coffee but it could be the quality of the beans. Most poor-quality coffee will contain increased levels of mycotoxins. While mycotoxins aren't noticeably harmful, a build-up from drinking them in your coffee every day could have a greater impact on your wellbeing that you can imagine. Mindful Coffee is clean, pesticide- and toxin-free.

We use an independent lab to test our coffee proving it is free from harmful toxins
Coffee beans will only ever be Fairtrade
We also believe in the benefits behind bulletproof coffee and enjoy the mental boost that comes with it – but the price leaves a bitter taste. Coming from the United States, bulletproof coffee comes with a price tag that's almost double ours. Our coffee is of the same standard as bulletproof – and clean with it- but brings with it support for a UK company and more money in your pocket.
OUR BLENDS
M
Always Organic & Fairtrade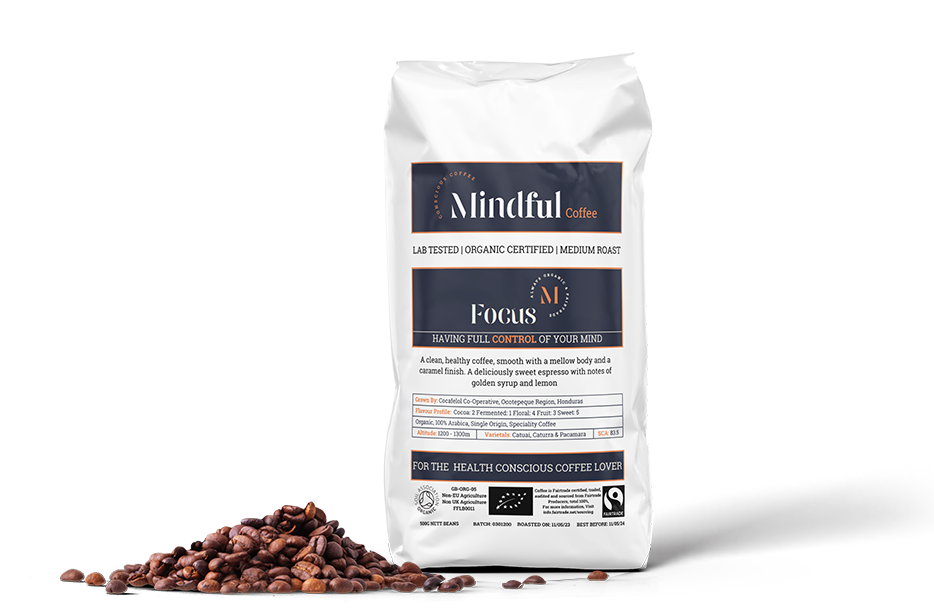 A clean, healthy coffee, smooth with a mellow body and a caramel finish. A deliciously sweet espresso with notes of golden syrup and lemon
Mycotoxin Free - Lab Tested
Single origin, 100% Arabica, Speciality Coffee
Shop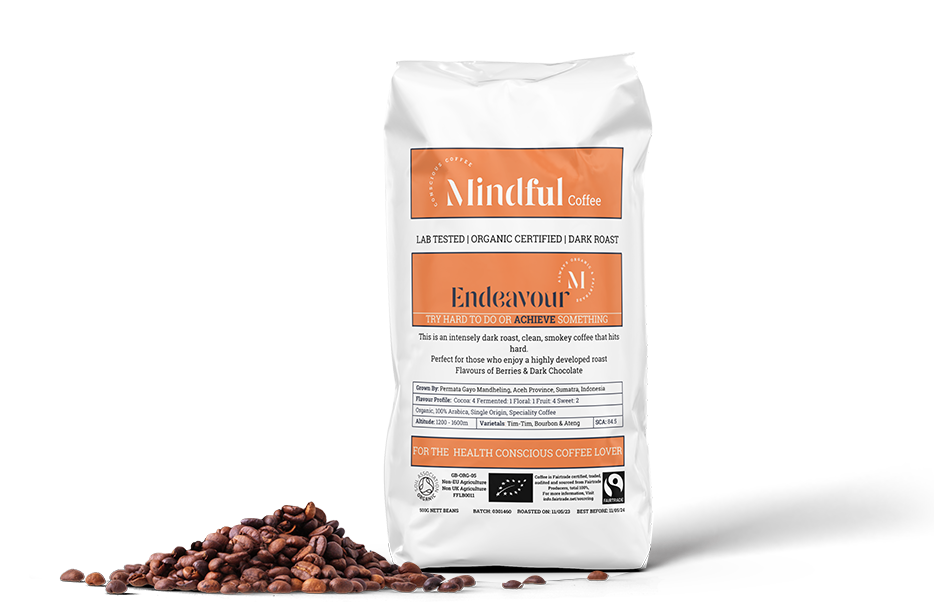 This is an intensely dark roast, clean, smokey coffee that hits hard. Perfect for those who enjoy a highly developed roast. Flavours of Berries & Dark Chocolate
Mycotoxin Free - Lab Tested
Single origin, 100% Arabica, Speciality Coffee
Shop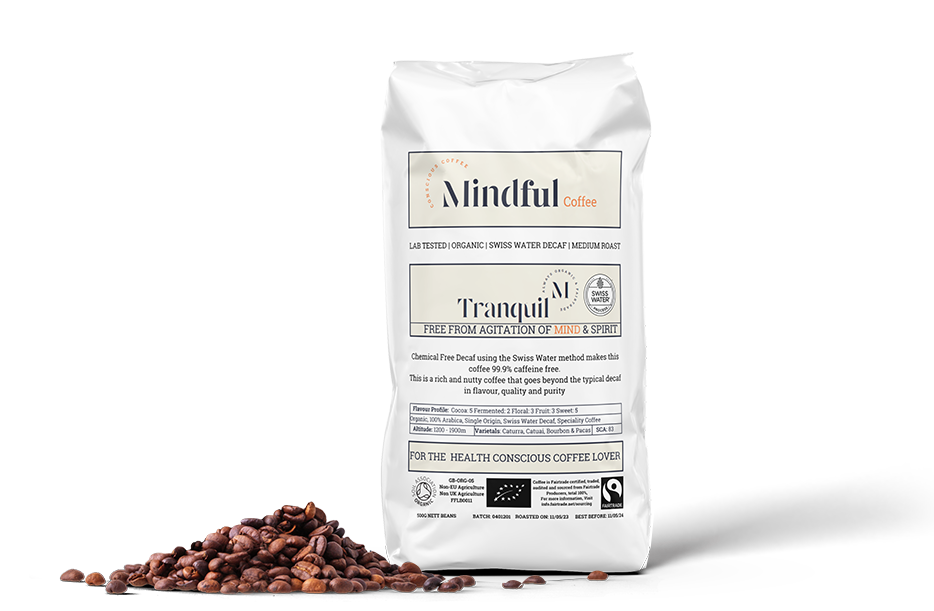 Chemical Free Decaf using the Swiss Water method makes this coffee 99.9% caffeine free.
This is a rich and nutty coffee that goes beyond the typical decaf in flavour, quality and purity
Mycotoxin Free - Lab Tested
Single origin, 100% Arabica, Speciality Coffee
Shop
M
Always Organic & Fairtrade
Mindful
It's not always about what you do; it's about how you do it. If you're ready to upgrade your coffee, why not upgrade the positive impact it can have on your life as well.
If you're like us, you'll have your first cup of the day in the morning. Here, at Mindful Coffee, we want to promote the idea of using this time in the morning to practice a bit of mindfulness. Mindfulness is about being present and aware of who and where we are - it brings a sense of calm to our life and is a great way to start the day. You may already be comfortable with the concept or you may be ready to make some time in your life to be more mindful. This great post from mindfulness.org [https://www.mindful.org/what-is-mindfulness/] sums it up well.
So why not take the time to practice some mindfulness while you enjoy your morning coffee, it's a great way to incorporate a little bit of 'me time' it into our busy lives #mindfulcoffeemorning
The mindful coffee family
What Our Customers Say
The richest full bodied decaf I've ever had!
This is the best decaf I've ever tried! I often miss the depth and flavour of caffeinated coffee that many decafs lack - but this coffee is lacking nothing! So impressed! Thanks guys!☕
Great coffee
It's really difficult, and an absolute maze, to get good quality organic coffee!! In my view, Mindful Coffee has it all.... Organic, Bulletproof, Mycotoxin Free (Lab Tested), Freshly Roasted, Single Origin and Speciality Grade. I mean what more do you want? Even my body tells me this is good coffee!! I wouldn't set off for anything else. Be good to yourself and buy Mindful Coffee.
Just... Wow!
I'm no coffee expert but this stuff is exquisite. It feels clean, I can't quite explain why, but there is a distinct difference this and shop bought coffees. I feel good drinking this and knowing what care has gone into producing and distributing it. No turning back now!
Follow Us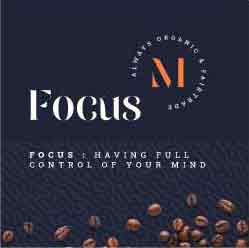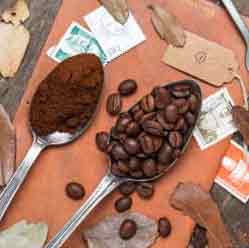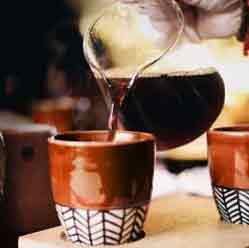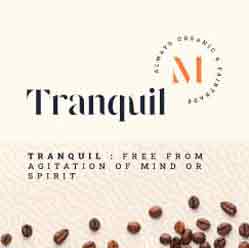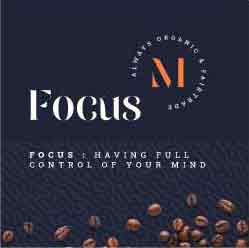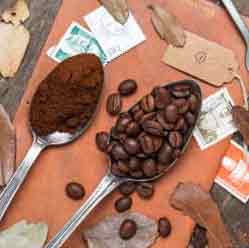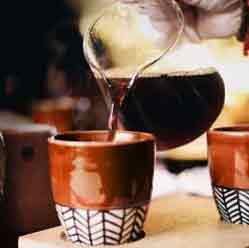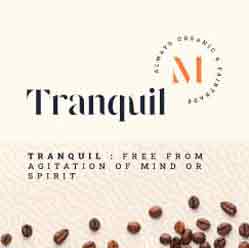 Blogs
Read Our Letest Blogs